WHY QT9 ERP?
Expand your possibilities through QT9 ERP
Bring your business data, financial reporting and sales insights together across different locations, departments and people to achieve more in less time.
"Investing money into QT9 and using all the functions has been the biggest business improvement we've had."
"QT9 is a very user-friendly software. The navigation within the software is intuitive and improves our efficiency."
"It's a single solution to manage our ERP, MRP and QMS needs across all our business platforms."
"Working in Class II medical devices it is important to use a validated system, QT9 checks this box at no additional cost."
"All of the information that we need is easier to access with QT9 ERP, it makes having audits a breeze."
"We have seen improved efficiencies in our operations with the work flow features it provides."
Simplify your digital business environment
QT9 ERP is faster, simpler and more flexible than typical ERP systems, at a fraction of the cost.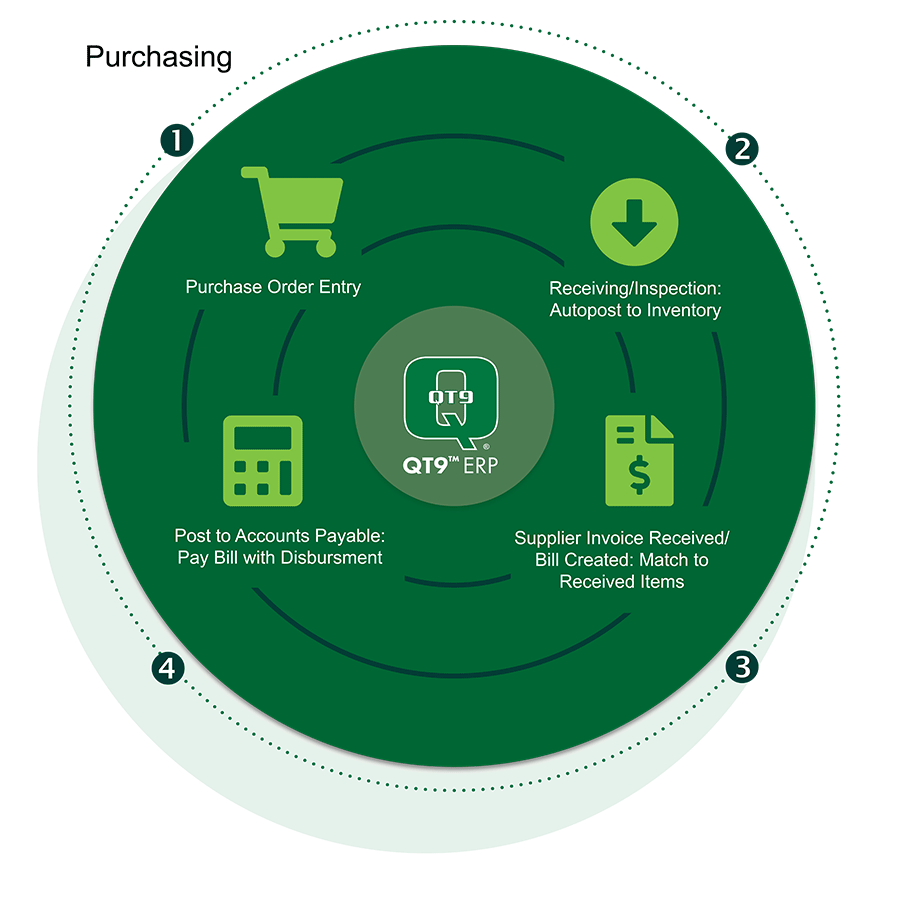 INTEGRATION EVERYWHERE
Automate business processes
Directly link data between modules. Whether you are creating purchase orders from MRP planning, scheduling jobs to your shop floor manager or receiving inventory from PO inspection, QT9 ERP's automation will keep you working as efficiently as possible.
DYNAMIC DASHBOARDS
Track status at a glance
See the big picture. QT9 ERP keeps you up to date on your past, present and future business activities. Easily spot holes and overlaps in your operation and quickly make adjustments. Sort the data any way you want. Export to Excel for analysis or import into the analytics tool of your choice.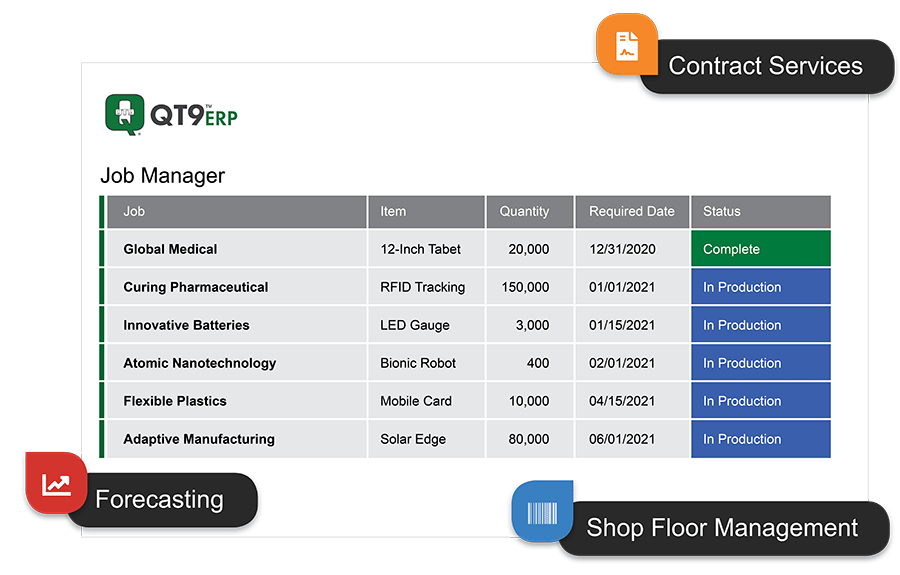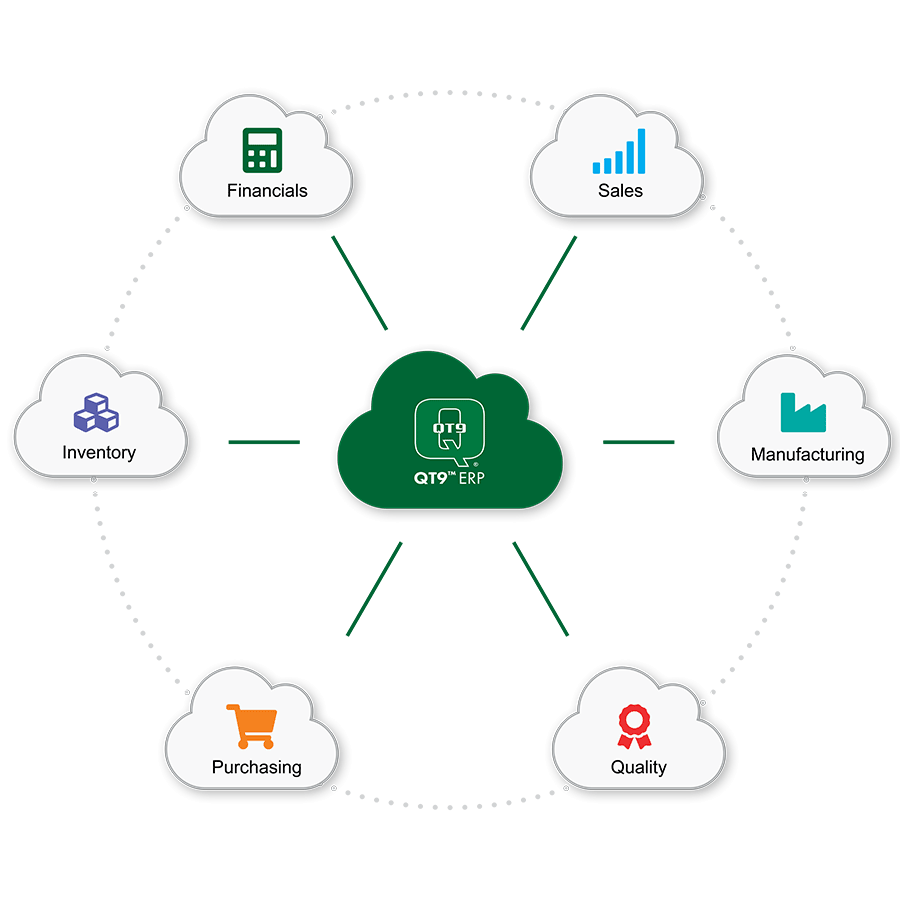 CONNECTED REAL-TIME ENVIRONMENT
Centralize operations
Tie it all together and eliminate the need for switching between systems by keeping everything organized in one place. QT9 ERP allows you to share data across various sites and functions from a single platform. With true multi-site capability, QT9 ERP can be the umbrella that keeps your organization centralized.
INTUITIVE USER EXPERIENCE
Simplify your job
Do more with less. QT9 ERP is easy to use. Quickly automate manual, redundant, time-consuming tasks. Minimize the hassle of duplicate data entry and reduce the risk for errors in the process with QT9's user-friendly solution.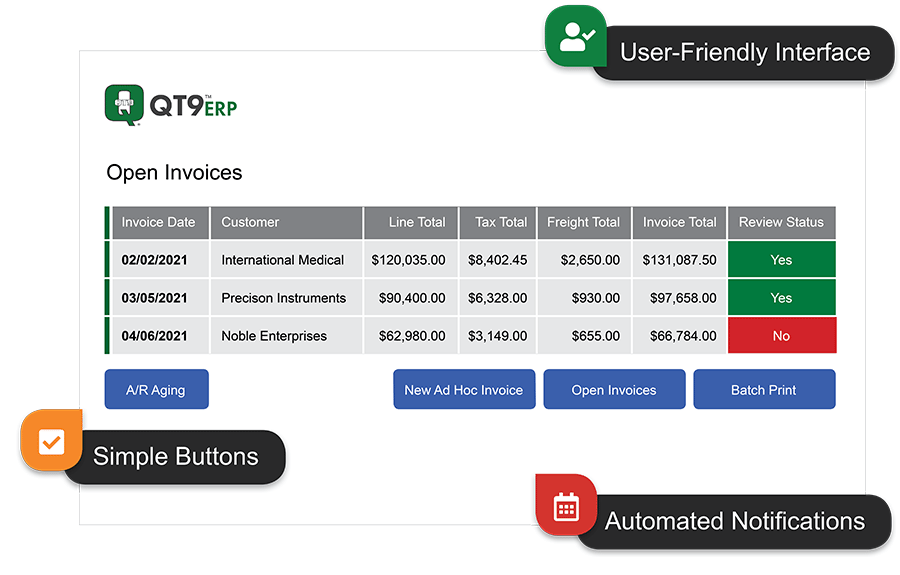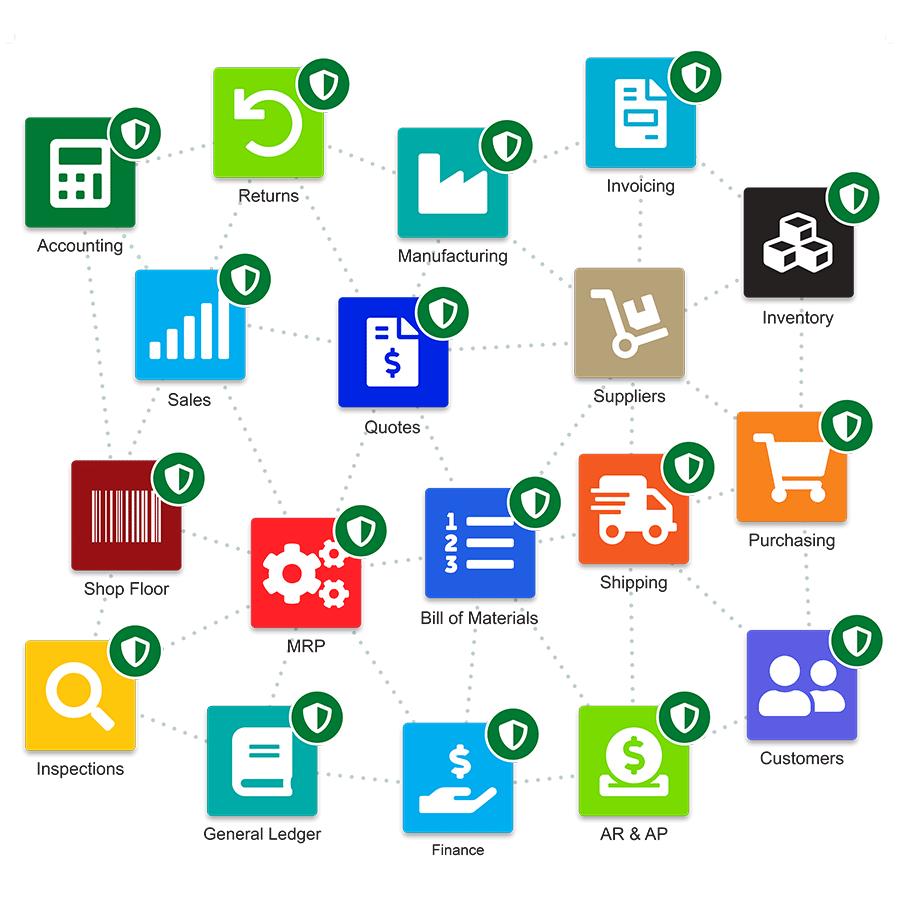 SCALABLE PLATFORM
Be more adaptable
All modules are included with QT9 ERP. As business needs increase, you can quickly shift from module to module so your sure to use those that have the biggest impact on efficiency and growth.
CUSTOM FIELDS
Keep track of what's most important
Use custom fields to track information that's most important to your team or company. QT9 ERP makes it easy to set up custom fields, so you have clarity on work happening across your business.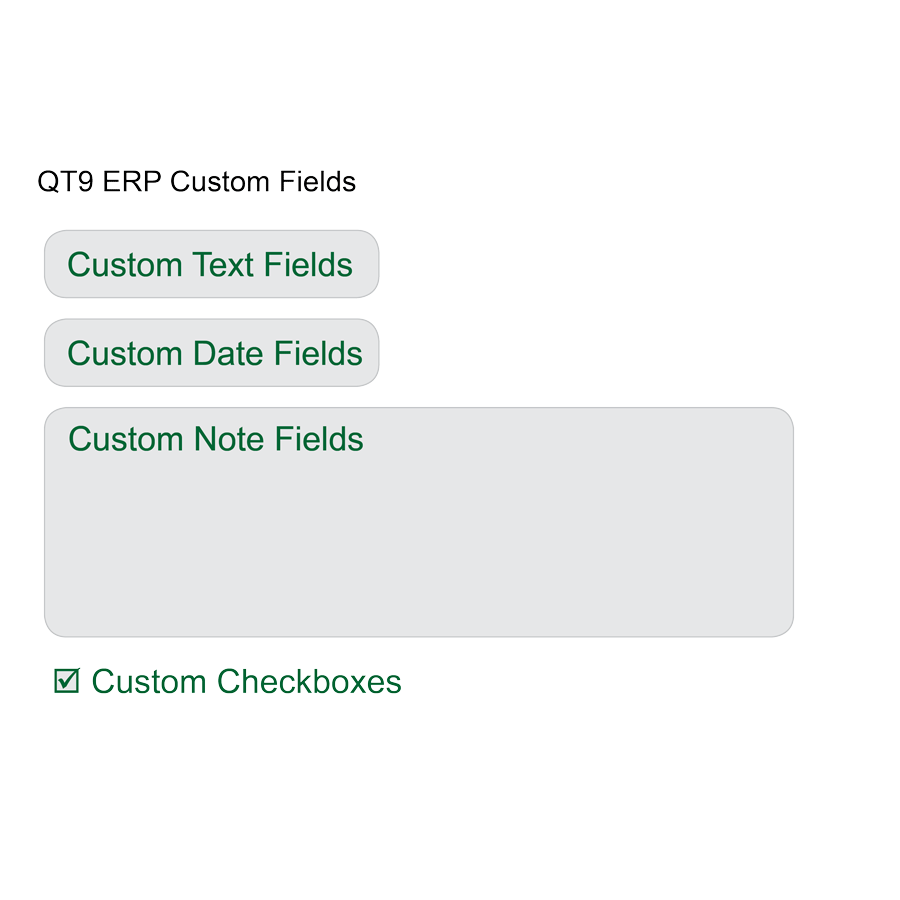 ACCELERATE BUSINESS GROWTH
Connect what matters
QT9 ERP includes advanced tools to modernize the way you do business.
Data-Driven
Integrate data from multiple business systems without chasing people down and avoiding unnecessary meetings.
Highly Scalable
Roll out your implementation in phases, upgrading one module at a time and scaling as your teams grow and your needs evolve.
Innovative
Digitally transform manual paper processes with automated tasks, and evolve at a faster pace by maximizing your existing resources.
Integrated
Dynamically populate modules with data inherited from one process to the next to save time and reduce manual data entry.
Configurable
QT9 ERP is built to adapt. Create your own personalized dashboard grids and easily change the way you do business.
Easy to Use
Simple to set up. Simple to use. QT9 ERP is a comprehensive solution that makes it easier to manage a global infrastructure.