FLEXIBLE ERP PLATFORM
One validated, simple and seamless cloud ERP platform
Be more flexible, scalable and secure. QT9™ ERP is easy for all teams to use, so you can deliver quality results, faster.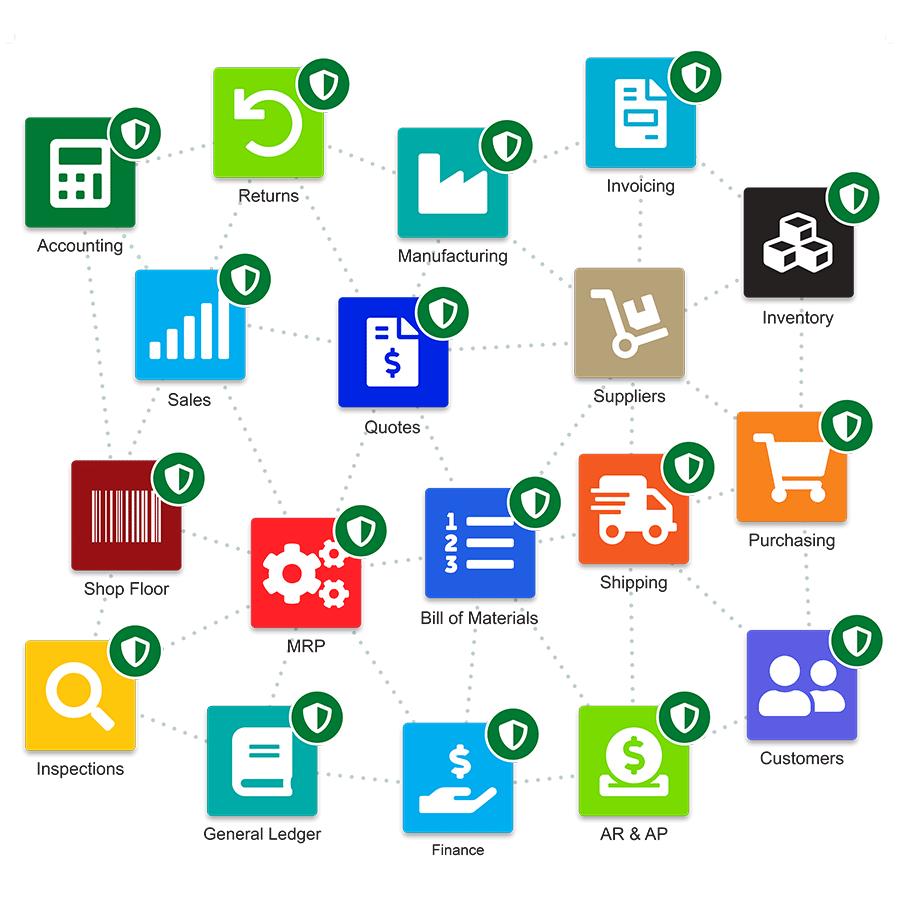 UNIFY OPERATIONS
Choose the platform that is right for you
QT9 ERP's flexible deployment options allow you to adapt for future growth.
Desktop Cloud
Windows Client - Cloud-Based Data
The QT9 desktop cloud is installed on your own Windows PCs with an internet connection to your data.
Web Purchase
On-Premise Web ERP
The QT9 ERP web purchase is installed locally on your own web server.
Web Subscription
Cloud-Based Web ERP
The QT9 web subscription is hosted on QT9 servers and accessed via the internet and a web browser.
CHANGE DIRECTION ON THE FLY
Be more flexible
Connect and operate systems across your organization's departments and offices around the world for greater elasticity.
Take advantage of QT9 ERP's multi-site, multi-company architecture.

Quickly adapt to new technologies and trends with QT9's universal platform.

Easily extend capabilities across your organization with connected modules.

Automate workflow and eliminate manual processes and workarounds.

Rapidly respond to changes in business and government regulations.

Manage global initiatives from anywhere to be more productive and consistent across operations.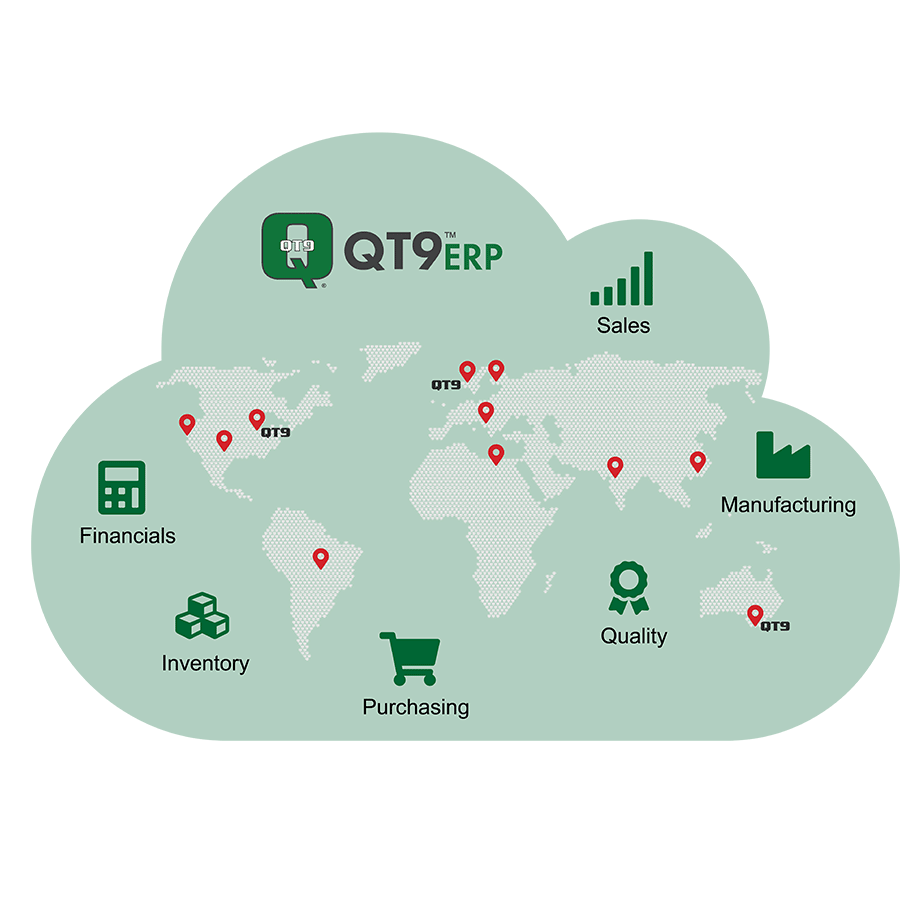 EXPAND FOR GROWTH
Get unlimited scalability
Easily adjust QT9 ERP beyond your existing workload while keeping everything contained in one place. With QT9 ERP you can be faster, sleeker and much more efficient.
All modules included. Unlock capabilities as needed.

Dynamically populated modules with data inherited from one process to the next.

Simplified collaboration with data shared across departments and locations.

Cloud computing for infinite scaling.

Global administrative tools to easily add user-defined fields and customizable reports.
STAY PROTECTED
Be more secure
Share your information with the right people, while knowing that your data is safe and reliable. QT9 ERP includes high-level protection.
Secure data transmission and storage using SSL encryption technology is included.
Automatic updates and multiple backups are performed daily.
Access is restricted and segregated by user and profile to create a safe space for sensitive work.
Complete disaster recovery and business continuity prevent disruptions.
Data security and privacy are included as all data is encrypted at rest.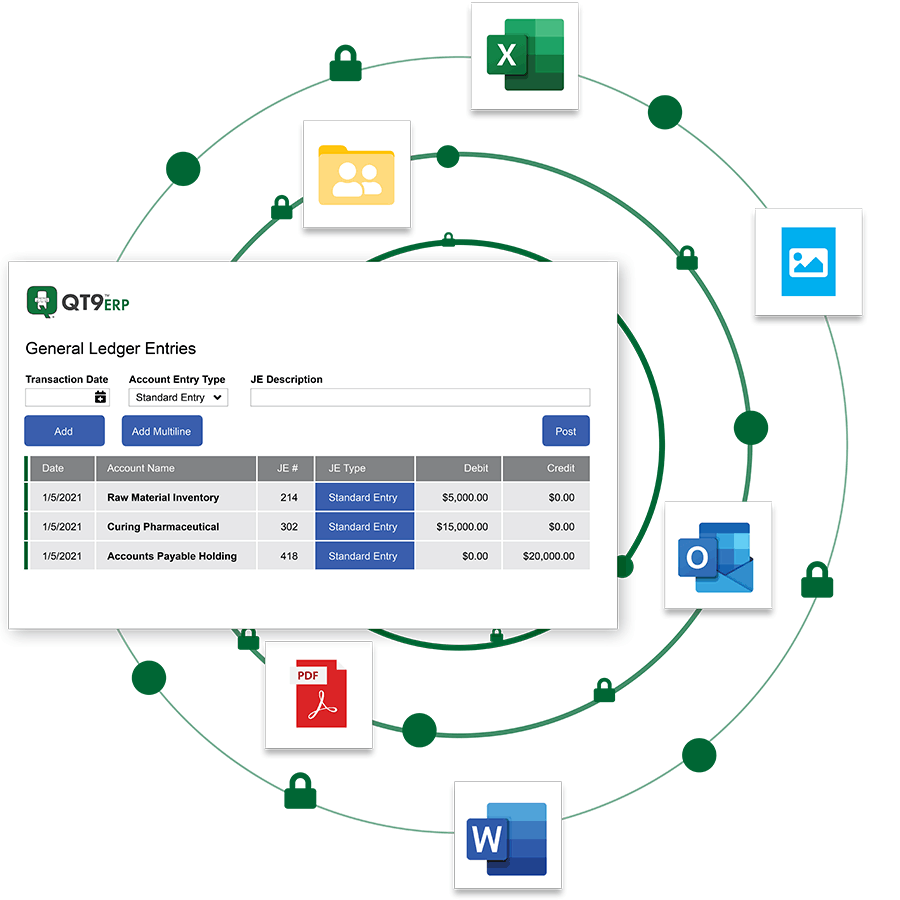 SYSTEM REQUIREMENTS
Tech Specs
Minimum Client PC Requirements
The client application is built on the Microsoft.NET framework.
---
Operating System: Windows Only (Windows 10 or greater)
Hardware: Pentium 4 Processor (1 Ghz or greater), 2 GB RAM,
500 MB Hard Drive Space Available
Minimum Server Requirements
Web servers are built on Microsoft IIS technology.
---
Operating System: Windows Only (Server 2012 or greater)
Database Software: SQL Server( SQL Server 2017 or greater - SQL Express will work)
Hardware: Pentium 4 Processor (1.2 Ghz or greater), 8 GB RAM,
1000 MB Hard Drive Space Available