Enterprise Resource Planning Software for the Future
Be more efficient | Be more flexible | Be ready to adapt
QT9's enterprise resource planning software is versatile and easy-to-use by simplifying business processed with built-in modules that connect business data. The QT9 ERP features a user-friendly interface that speeds up order processing functions, reduces lead times and reduces unknowns.
ERP Software Benefits
Enterprise Resource Planning Software Efficiencies
Automate multiple processes with the QT9 enterprise resource planning software solution and find more efficiencies.
At Multiple Locations
Automate manual processes
Remotely process action items
Simplify regulatory compliance
Reduce production times
Synchronize data in real-time
At Factories & Warehouses
Integrate data from multiple systems
Update statuses electronically
Reduce unnecessary workloads
Unify costs & purchase orders
Accurately forecast future needs
At the Landfill
Eliminate paper bill of materials
Electronically approve documents
Digitally access timeline history
Remote access means less travel
Reduce costs & minimize spending
Centralize Business Data
Integrate business functions
Financial Modules: Accounting, Accounts Receivable & Accounts Payable, General Ledger and 3rd Party Accounting

Sales Modules: Sales Management, Return Goods Authorization, Customer Management, Quoting, Shipping and Invoicing

Inventory Module: Inventory Control

Manufacturing Modules: Manufacturing Management, Bill of Materials and Shop Floor Management

Purchasing Modules: Purchasing Management, Inspections, MRP and Supplier Management

Quality Management Integration with QT9 QMS Available from QT9 Enterprise Resource Planning Software
Explore Modules
* QT9 ERP Enterprise Resource Planning Software connects people, products and data in real-time.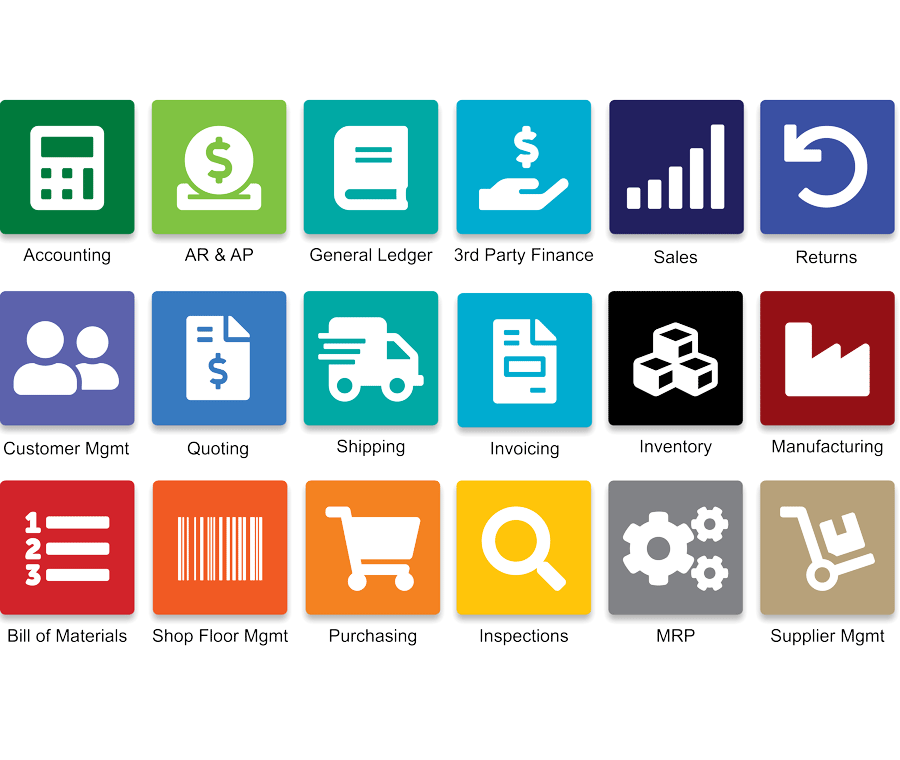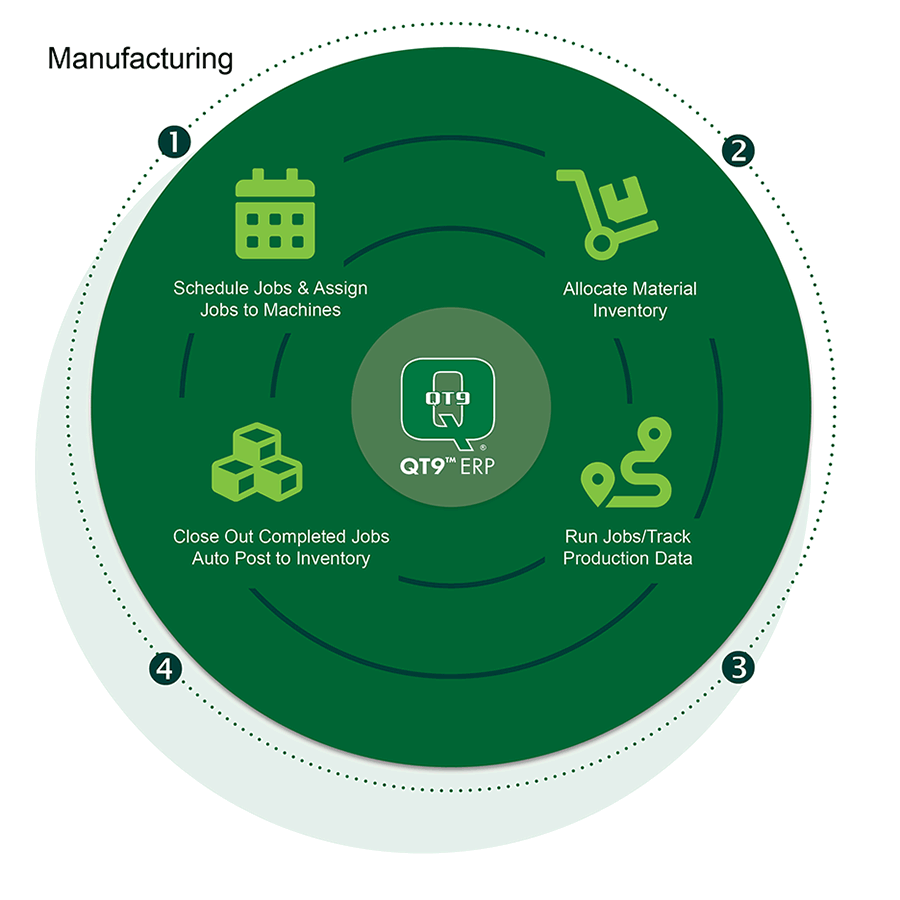 Quickly Increase Scalability
Modernize operations
100% cloud-based platform for centralization.

Dynamically populate forms with data inherited from other modules and receive status updates.

QT9 ERP utilizes multi-site, multi-company architecture.

Quickly adapt to new technologies and trends with QT9's universal platform.

Explore QT9 ERP for Medical Device Companies, Pharmaceutical Companies, Food Companies, Manufacturing Companies and Plastic Companies.
Explore Industry Solutions
* QT9 ERP Enterprise Resource Planning Software eliminates paper and streamlines operations by eliminating outdated spreadsheets and paper logs.
User-Friendly ERP Software
Simplify shop floor processes
Save time by enabling employees to quickly edit job data on the shop floor.

Improve quality by integrating QT9 ERP directly with the QT9 QMS Quality Management System, while ensuring ISO and FDA compliance.

No expensive/on-going customizations or slow implementations.

Turn data-driven insights into opportunities with real-time interactive dashboards.

Barcode inventory to make managing recurring workflows fast, accurate and easy. Track and scan items with a full audit trail history.
Explore Shop Floor Manager
* QT9 ERP Enterprise Resource Planning Software provides tools to manage your shop's workflow, including materials, build, job costing, time tracking and inventory.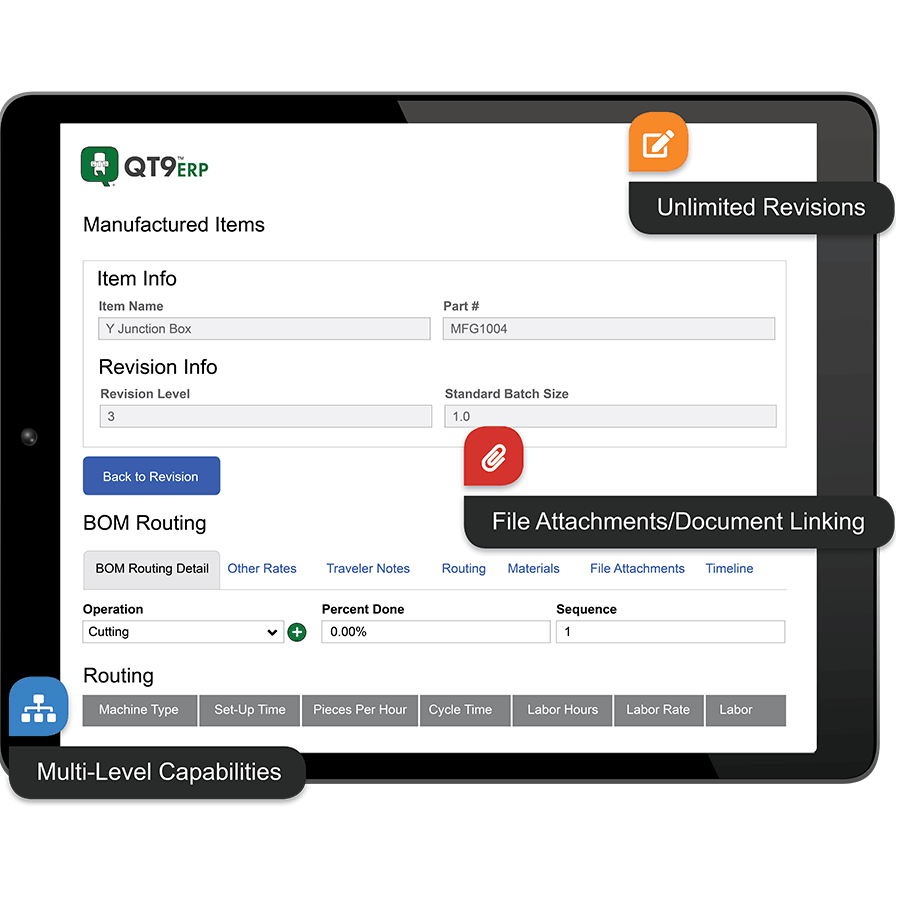 All-In-One ERP Solution
Explore QT9 ERP's Modules
Easily connect all your business functions with QT9's next generation of business modules.